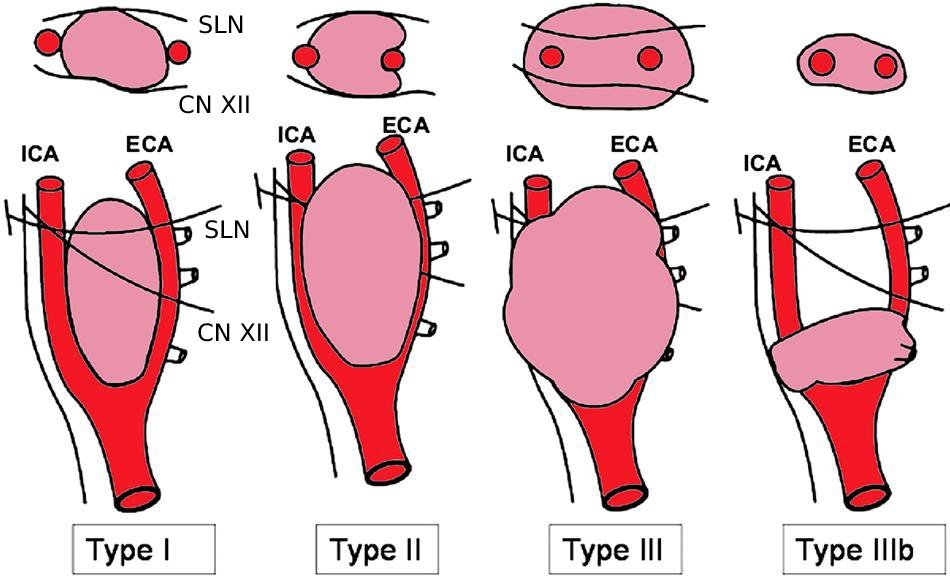 Carotid body tumour, also known as a chemodectoma or carotid body paraganglioma, are highly vascular tumors arising from the paraganglion cells of the carotid body. These tumors are located at the site of the carotid bifurcation.
The treatment of choice in carotid body tumors is early surgical resection.
Shamblin classification helps in predicting the prognosis and difficulties for surgical resection.
Shamblin classification
Shamblin, et al. in 1971 classified carotid body tumors in relation to the carotid vessels. In his classification
Group I – includes localized tumors not involving the carotid vessels.
Group II – tumors partially surround carotid vessels or is adherent to them.
Group III – defined as larger tumors encasing the carotid vessels.
As carotid body tumors become larger in size, they get more adherent to the vessels. However, Shamblin classification had some limitations because it does not reflect how deep tumor infiltrates through the wall of carotid vessels, which decides if it is possible to preserve the carotid vessels.
Modified Shamblin classification
Luna-Ortiz, et al. in 2006 proposed modifications to Shamblin classification, to improve the prediction of difficulties and complications.
They introduced a class IIIa, representing the old class III, and a class IIIb which includes tumors of any class (I, II, or III) where there is infiltration of the vessel wall and not just circumferential encasement.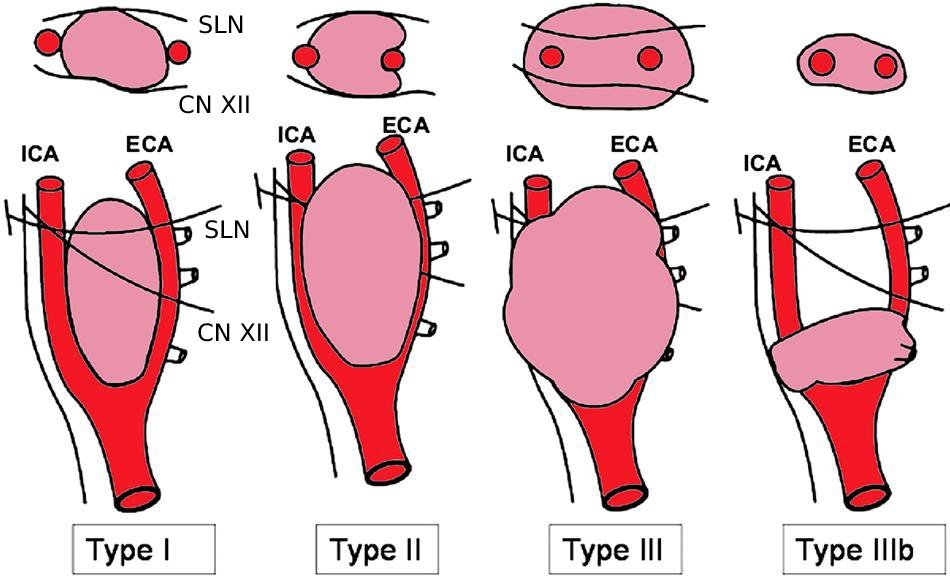 Need for vascular resection and reconstruction was significantly higher among class IIIb tumors.
References
Luna-Ortiz K, Rascon-Ortiz M, Villavicencio-Valencia V, Herrera-Gomez A. Does Shamblin's classification predict postoperative morbidity in carotid body tumors? A proposal to modify Shamblin's classification. European Archives of Oto-Rhino-Laryngology and Head & Neck. 2006 Feb 1;263(2):171-5.
Torrealba JI, Valdés F, Krämer AH, Mertens R, Bergoeing M, Mariné L. Management of Carotid Bifurcation Tumors: 30-Year Experience. Annals of vascular surgery. 2016 Jul 31;34:200-5.
Rim Z, Rim B, Houda C, Souheil J, Najeh B, Ghazi B. Paraganglioma of the carotid body: Report of 26 patients and review of the literature. Egyptian Journal of Ear, Nose, Throat and Allied Sciences. 2015 Mar 31;16(1):19-23.
Gad A, Sayed A, Elwan H, Fouad FM, Eldin HK, Khairy H, Elhindawy K, Taha A, Hefnawy E. Carotid body tumors: a review of 25 years experience in diagnosis and management of 56 tumors. Annals of vascular diseases. 2014;7(3):292-9.