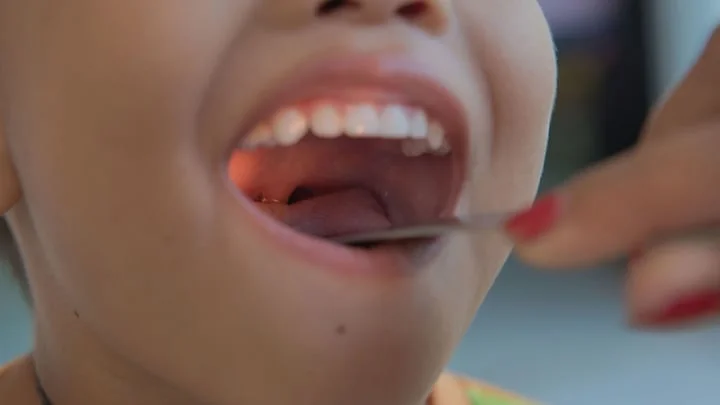 Tonsillectomy is a surgical procedure performed with or without adenoidectomy that completely removes the tonsil, including its capsule, by dissecting the peritonsillar space between the tonsil capsule and the muscular wall.
Tonsillectomy is the second-most common ambulatory surgical procedure (first being myringotomy with insertion of tubes) performed on children in the United States. In the most recent report, 289,000 ambulatory tonsillectomy procedures were performed in 2010 in children <15 years of age.
The 2 most common and absolute indications for tonsillectomy are recurrent throat infections and obstructive sleep-disordered breathing (SDB), both of which can substantially affect child health status and quality of life. There are some other relative indications for tonsillectomy also.
The American Academy of Otolaryngology, Head and Neck Surgery has published its guidelines in 2011 for tonsillectomy in children. These guidelines were recently updated in 2018. In this article, we are summarizing some of the indications for tonsillectomy.
Recurrent throat infections
Recurrent throat infections are a common reason among the pediatric population to see a primary care provider and often result in antibiotic treatment. The direct cost of outpatient visits and the medications prescribed for sore throats, including antibiotics, are substantial. The indirect costs associated with throat infections due to missed school and, for caregivers, loss of time from work is also significant.
In order to have evidence-based recommendations on the management of recurrent throat infections in children between 1 to 18 years old, Paradise criteria is followed universally to select children who need tonsillectomy.
According to the paradise criteria, tonsillectomy should be considered in children less than 15 years old with >7 episodes of throat pain in the past year, >5 episodes per year in the past 2 years, or >3 episodes per year in the past 3 years. In children who have fewer episodes than this, watchful waiting can be considered.
Paradise criteria for tonsillectomy
Criteria
Definition
Minimum frequency of sore throat episodes
Seven or more episodes in the preceding year, OR
Five or more episodes in each of the preceding 2 y, OR
Three or more episodes in each of the preceding 3 y
Clinical features
Sore throat plus at least one of the following features qualifies as a counting episode:

Temperature of greater than 100.9°F (38.3°C)
Cervical adenopathy (tender lymph nodes or lymph node size greater than 2 cm)
Tonsillar exudate
Culture positive for group A beta-hemolytic streptococcus

Treatment
Antibiotics had been administered in conventional dosage for proved or suspected streptococcal episodes.
Documentation
Each episode of throat infection and its qualifying features substantiated by contemporaneous notation in a medical record OR

If the episodes are not fully documented, subsequent observance by the physician of two episodes of throat infection with patterns of frequency and clinical features consistent with the initial history.
Obstructive sleep apnea (OSA)
The second commonest indication for tonsillectomy in the pediatric population is for obstructive sleep apnea and failure to thrive. Tonsillar hypertrophy is the principal cause of crowding of the oropharynx resulting in sleep disturbed breathing in children.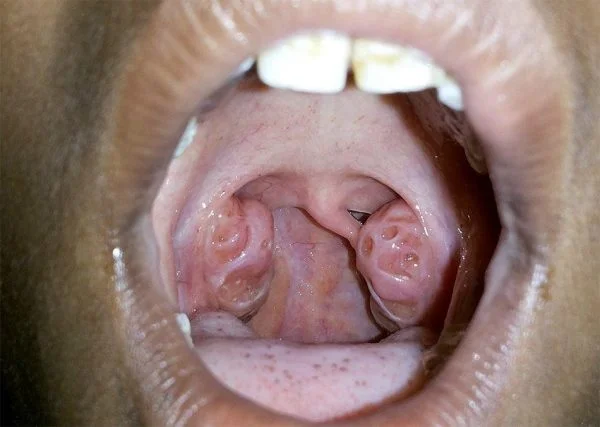 Studies have shown that pediatric sleep apnea is associated with an increase in health care utilization and cost. Children with sleep-disordered breathing versus controls have a significantly higher rate of antibiotic use, 40% more hospital visits, and an overall elevation of 215% in health care usage, mostly from increased respiratory tract infections. Failure to thrive is reported in 27% to 62% of pediatric obstructive sleep apnea cases.
Children with a tonsillar disease, including children with throat infections and sleep-disordered breathing, also show significantly lower scores on several quality-of-life subscales, including general health, physical functioning, behavior, bodily pain, and caregiver impact, when compared with healthy children.
The prevalence of obstructive sleep apnea in children is 1.2% to 5.7%, while as many as 10% of children have primary snoring. Up to 40% of children with sleep-disordered breathing exhibit behavioral problems that include enuresis, hyperactivity, aggression, anxiety, depression, and somatization. Obstructive sleep apnea is also associated with poor school performance and a decrease in the quality of life of children.
A comparative effectiveness review from the Agency for Healthcare Research and Quality (AHRQ) reported that tonsillectomy can lead to short-term improvement in sleep outcomes when compared with no surgery in children with sleep-disordered breathing. There is also evidence that behavioral parameters, school performance, and quality of life improve after the resolution of sleep-disordered breathing.
Other indications for tonsillectomy
Following are some other indications for tonsillectomy in general,
Recurrent acute tonsillitis associated with other conditions like:

Cardiovascular disease associated with recurrent streptococcal tonsillitis.
Recurrent febrile seizures.

Chronic tonsillitis that is unresponsive to medical management and associated with halitosis, persistent sore throat, multiple antibiotic allergies/intolerance, PFAPA (periodic fever, aphthous stomatitis, pharyngitis, and cervical adenitis).
Tonsillitis associated with abscessed nodes.
History of more than 1 episode of peritonsillar abscess / Quinsy
Infectious mononucleosis with severely obstructing tonsils unresponsive to medical management.
Streptococcal carrier state unresponsive to medical treatment.
Tonsillar hypertrophy causing obstruction.

Adenotonsillar enlargement associated with corpulmonale, and failure to thrive.
Dysphagia
Speech abnormalities (Rhinolalia clausa)
Craniofacial growth abnormalities
Occlusal abnormalities

Other causes

Embedded foreign body.
Large symptomatic tonsiloliths.
As long-term management of IgA nephropathy along with pulsed steroid therapy.
Biopsy
Tonsillar cysts
As a surgical approach to other structures like

Styloid process
Glossopharyngeal nerve
Parapharyngeal space
References
Mitchell RB, Archer SM, Ishman SL, Rosenfeld RM, Coles S, Finestone SA, Friedman NR, Giordano T, Hildrew DM, Kim TW, Lloyd RM. Clinical practice guideline: tonsillectomy in children (update). Otolaryngology–Head and Neck Surgery. 2019 Feb;160(1_suppl):S1-42.