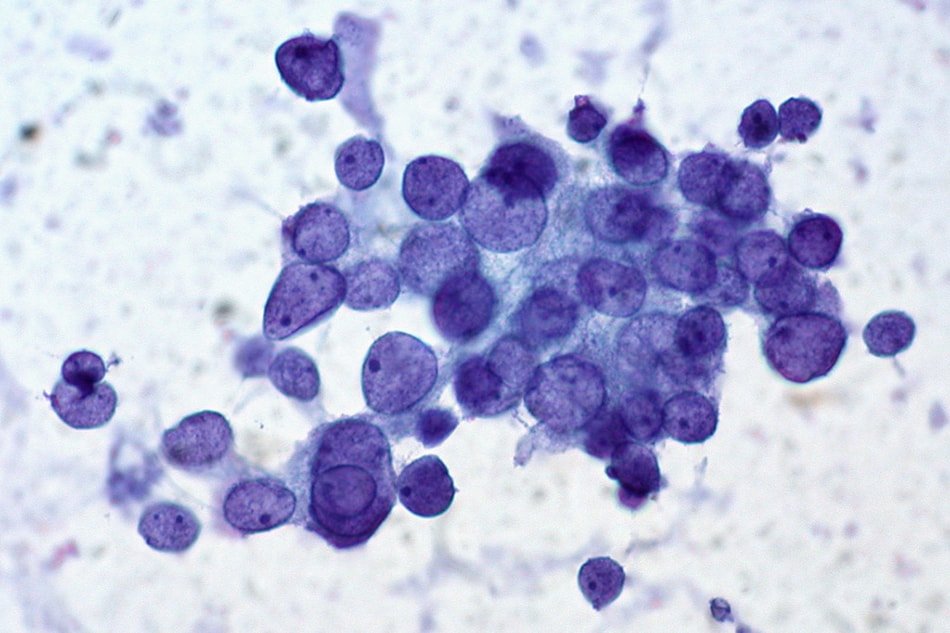 Fine needle aspiration cytology (FNAC) is a corner stone investigation done in the evaluation of thyroid lesion. It is a simple, safe, quick and cost-effective outpatient procedure.
FNAC has got a high degree of diagnostic accuracy (85-100%) and a high positive predictive value for malignant diseases (94%). The results are superior when FNAC is performed under ultrasound-guidance (USFNAC).
In this procedure, a small sample of thyroid tissue is removed from the gland with the help of a 24-27G needle under local anesthesia and is looked under a microscope to identify any pathologies.
Need for a universal reporting system / Bethesda System
In order to avoid the nonuniform, ambiguous and confusing terminologies used by cytopathologists for reporting thyroid FNAC throughout the world, the National Cancer Institute (NCI) organized a "Thyroid Fine Needle Aspiration State of the Art and Science Conference" in Bethesda, Maryland in the year 2007.
In this conference, they proposed the Bethesda System for Reporting Thyroid Cytology (TBSRTC) which established a standardized, category-based reporting system for thyroid fine-needle aspiration (FNAC) specimens.
The primary purpose of terminologies used in the Bethesda system is to have a clarity of communication between the cytopathologist and the surgeon, endocrinologist or radiologist. The terminologies should provide clinically relevant information, which should have an implied (or explicit) risk of malignancy on which recommendations for patient management (eg, annual follow-up, repeated FNAC, surgical lobectomy, near-total thyroidectomy) can be based.
Various studies have shown that the Bethesda system for reporting thyroid cytology reduces interobserver variability in reporting thyroid FNACs. TBSRTC also improves communication between the cytopathologist and surgeon by way of indicating cancer risk in each category. In addition, it also provides guidelines for management and allows easy and reliable sharing of data between different laboratories.
2007 Bethesda system
The Bethesda system recommends six general diagnostic categories and suggests that each report should begin with a general diagnostic category. Each of the categories has an implied cancer risk (ranging from 0 to 3% for the benign category to nearly 100% for the malignant category) with rational clinical management guidelines.
Category I — Nondiagnostic or unsatisfactory (ND/UNS)
This group involves specimens showing nonspecific features not conclusively diagnostic of a particular entity. These include cyst fluid only, virtually acellular specimens or others like obscuring blood, clotting artifact, etc. In regular practice, this should be ideally limited to no more than 10% of total thyroid FNACs.
Category II — Benign
This category includes benign follicular nodule (colloid nodule, adenomatoid nodule), lymphocytic (Hashimoto's) thyroiditis and granulomatous (subacute) thyroiditis.
Category III — Atypia of undetermined significance (AUS) or follicular lesion of undetermined significance (FLUS)
In this category, FNAC specimens that do not fit into benign, suspicious or malignant categories are included. This terminology is reserved for specimens containing cells (lymphoid, follicular) with architectural atypia which is not sufficient to be classified as suspicious for a follicular neoplasm (FN) or malignancy and on the other hand atypia is more marked than benign change. The pathologist should specify if it is Hurthle type or Oncocytic type.
Category IV — Follicular neoplasm (FN) or suspicious for a Follicular neoplasm (FN/SFN)
In this category, specimens with significant alteration in the follicular cell architecture, characterized by cell crowding, micro follicles, dispersed isolated cells and scant or absent colloid are included.
Category V — Suspicious for malignancy
This category includes lesions suspicious for papillary carcinoma, medullary carcinoma, other malignancies (eg, lymphoma, metastatic carcinomas), or neoplasm because of total necrosis of lesional cells (e.g., anaplastic carcinoma).
Category VI — Malignant lesion
This category includes specimens with cytomorphologic features which are conclusive for malignancy.
After its introduction in 2007, the Bethesda system got widespread acceptance, especially in the U.S., The American Thyroid Association (ATA) endorsed the system officially in 2015 as part of their revised ATA guidelines and risk stratification. TBSRTC is now the most common classification worldwide for the reporting of thyroid FNAC specimen.
The new advances in the field like Noninvasive Follicular Thyroid Neoplasm with Papillary-Like Nuclear Features (NIFTP), the utility of molecular and IHC markers, and clinical management advancements has necessitated a need for revision of the TBSRTC system. Hence, a second edition for the system was released by the International Cytology Congress, in a symposium held during its meeting in Yokohama, Japan, in 2016.
2017 Revised Bethesda system for thyroid
Following are the highlights in 2017 revised Bethesda system.
Every thyroid FNAC report should begin with one of six diagnostic categories, the names of which remain unchanged since they were first introduced:

nondiagnostic or unsatisfactory
benign
atypia of undetermined significance (AUS) or follicular lesion of undetermined significance (FLUS)
follicular neoplasm or suspicious for a follicular neoplasm
suspicious for malignancy
malignant

There is a choice of two different names for some of the categories. A laboratory should choose the one it prefers and use it exclusively for that category.
Synonymous terms (e.g., AUS and FLUS) should not be used to denote two distinct interpretations.
The malignancy risks have been updated based on new data.
Each category is linked to updated, evidence-based clinical management recommendations.
Comparison of Bethesda I with Bethesda II (Changes are marked in bold)

Risk of malignancy
Limit on lab reports
Management option
Bethesda I
Bethesda II
Bethesda I
Bethesda II
Bethesda I
Bethesda II
Nondiagnostic or
Unsatisfactory
1-4%
 5-10%
 <10%
Repeat USG FNAC
Repeat USG FNAC
Benign
0-3%
0-3%
Clinical and imaging follow-up
Clinical and imaging follow-up
Atypia of unknown significance or
follicular lesion of undetermined significance.
5-15%
10-30%
7%
10%
Repeat FNAC
Repeat FNAC or Molecular studies/lobectomy
Follicular neoplasm
20-30%
25-40%
Surgical lobectomy
Molecular studies/lobectomy
Suspicious of malignancy
60-75%
50-75%
Lobectomy / Total thyroidectomy
Near-total thyroidectomy/ lobectomy
Malignant
97-99%
97-99%
Total thyroidectomy
Near-total thyroidectomy/ lobectomy
References
Cibas ES, Ali SZ. The 2017 Bethesda System for Reporting Thyroid Cytopathology. Thyroid. 2017 Nov 1;27(11):1341-6.
Pusztaszeri M, Rossi ED, Auger M, Baloch Z, Bishop J, Bongiovanni M, Chandra A, Cochand-Priollet B, Fadda G, Hirokawa M, Hong S. The Bethesda System for Reporting Thyroid Cytopathology: proposed modifications and updates for the second edition from an international panel. Acta cytologica. 2016;60(5):399-405.
Renuka IV, Bala GS, Aparna C, Kumari R, Sumalatha K. The Bethesda system for reporting thyroid cytopathology: interpretation and guidelines in surgical treatment. Indian Journal of Otolaryngology and Head & Neck Surgery. 2012 Dec 1;64(4):305-11.
Cibas ES, Ali SZ. The Bethesda system for reporting thyroid cytopathology. American journal of clinical pathology. 2009 Nov 1;132(5):658-65.
Baloch, Z.W., Seethala, R.R., Faquin, W.C., Papotti, M.G., Basolo, F., Fadda, G., Randolph, G.W., Hodak, S.P., Nikiforov, Y.E. and Mandel, S.J., 2016. Noninvasive follicular thyroid neoplasm with papillary-like nuclear features (NIFTP): A changing paradigm in thyroid surgical pathology and implications for thyroid cytopathology. Cancer cytopathology, 124(9), pp.616-620.
Revised thyroid Bethesda System resets malignant risks – Clinical Endocrinology News, August 10, 2017