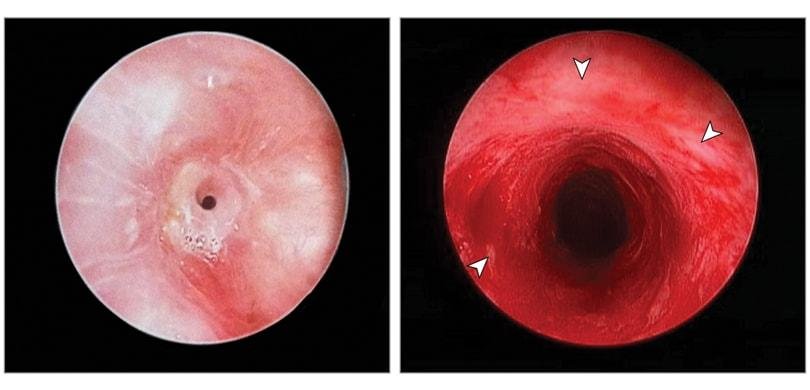 Replacement of trachea after extensive resection still remains as a major challenge for the thoracic surgeons even after decades of intensive research. End to end anastomosis is difficult or almost not possible when more than 5-6 cm of the trachea is resected out.
Several clinical solutions with skin, esophagus, and bowel, etc. have been proposed to tackle this unanswered surgical problem, but they all have produced disappointing results with multiple surgical difficulties or complications like:
risk of chronic infection, obstruction due to granulation tissue formation
risk of necrosis and stenosis, migration of the graft, erosion into major blood vessels
need for immunosuppression.
This made the researchers to start thinking about other solutions and to review other techniques until they realized that aortic grafts are a potentially useful replacement of trachea which had been overlooked.
Early researches
The early research on the use of aortic graft as a replacement for trachea was initiated by Emmanuel Martinod, professor of thoracic surgery at the Assistance Publique Hôpitaux de Paris and the University of Paris in the year 1997.
An ideal tracheal replacement graft should provide a large caliber airway that does not collapse during expiration, and which enables the development of a ciliary lining, in addition to tolerance without rejection.  Aorta's shape and diameter are similar to the trachea, and the tissue is strong and elastic. The major downside was the risk of the graft collapse, but inserting a stent could remedy that obstacle.
Martinod started their preliminary studies using sheep models. They removed a 5-cm segment of the cervical trachea from 21 sheep and replaced them by a segment of the descending thoracic aorta. To avoid the graft collapse, a stent was placed in the lumen of the graft. Clinical, bronchoscopic, and histologic examinations were performed up to 3 years after implantation. Though 3 complications happened, their results showed that autologous aortic grafts, fresh and cryopreserved aortic allografts could be valuable tracheobronchial substitutes for a neo trachea.
Histologic examination of the graft showed that a progressive transformation of the arterial segment into well-differentiated tracheal tissue including a continuous mucociliary epithelium and regular rings of newly formed cartilage happens after 6 to 36 months.
"It took approximately 3 years to publish our first results in a high-impact journal. It was very difficult at the beginning." – Martinod said.
Numerous experimental studies have shown that after epithelial injury, migration of cells from the native trachea leads to regeneration of the destroyed area. In these cases, the human body acted as a natural bioreactor and allowed in vivo airway tissue engineering. But mechanisms of cartilage neoformation still remain unclear and additional studies have to be conducted to explain this unexpected transformation.
Human transplant
The first human case of long tracheal replacement with an aortic autograft was reported in 2006 by Martinod. They replaced 7 cm of a tumoral trachea with an infra-renal (abdominal) aortic autograft with a silicone stent as support. The patient's early postoperative period was uneventful. The stent was removed at three months. Though the patient died at six months from an acute pulmonary infection, without any sign of anastomosis leakage or graft rupture, it opened a new field of a clinical study.
Following the study by Martinod, Wurtz in 2010 published their report on tracheal and carinal replacement with aortic allografts in 6 patients with large salivary gland-type carcinoma. Though complications happened, they observed that tracheal replacement with aortic allografts enables resection of extensive tumors with curative intent.
Recently in 2018 May, Martinod published the first prospective study of airway bioengineering using aortic grafts. Between the ear 2009 and 2017, they performed tracheal or bronchial transplant using a cryopreserved aortic allograft in 13 patients: five tracheas, seven bronchi and one carina, which is where the trachea divides.
The carina transplant patient died sometime after surgery but was not related to airway transplantation. The other 12 are all survived at least 90 days, and 10 of them were alive after nearly four years. 8 of them could breathe normally through their newly formed airway. All the stents were removed, on average 18 months after the surgery.
Martinod's studies have shown that airway bioengineering using stented aortic graft for complex tracheal and bronchial reconstruction can bring hope to the management of extensive tracheal lesions.
Further research is suggested on the possibility to accelerate de novo generation of cartilage for early stent removal; study of mechanisms of airway regeneration within cryopreserved aortic grafts; assessment of the long-term quality of life among patients after receiving transplantation; and development of clinical applications using multicenter studies.
References
Martinod E, Chouahnia K, Radu DM, Joudiou P, Uzunhan Y, Bensidhoum M, Portela AM, Guiraudet P, Peretti M, Destable MD, Solis A. Feasibility of bioengineered tracheal and bronchial reconstruction using stented aortic matrices. JAMA.
Martinod E, Zegdi R, Zakine G, Aupecle B, Fornes P, D'audiffret A, Chachques JC, Azorin J, Carpentier A. A novel approach to tracheal replacement: the use of an aortic graft. The Journal of thoracic and cardiovascular surgery. 2001 Jul 1;122(1):197-8.
Martinod E, Seguin A, Pfeuty K, Fornes P, Kambouchner M, Azorin JF, Carpentier AF. Long-term evaluation of the replacement of the trachea with an autologous aortic graft. The Annals of thoracic surgery. 2003 May 1;75(5):1572-8.
Azorin JF, Bertin F, Martinod E, Laskar M. Tracheal replacement with an aortic autograft. European journal of cardio-thoracic surgery. 2006 Feb 1;29(2):261-3.
Seguin A, Radu D, Holder-Espinasse M, Bruneval P, Fialaire-Legendre A, Duterque-Coquillaud M, Carpentier A, Martinod E. Tracheal replacement with cryopreserved, decellularized, or glutaraldehyde-treated aortic allografts. The Annals of thoracic surgery. 2009 Mar 1;87(3):861-7.
Wurtz A, Porte H, Conti M, Dusson C, Desbordes J, Copin MC, Marquette CH. Surgical technique and results of tracheal and carinal replacement with aortic allografts for salivary gland–type carcinoma. The Journal of thoracic and cardiovascular surgery. 2010 Aug 1;140(2):387-93.
Voelker R. The Body's Largest Artery Aids in Building a Better Trachea. JAMA.