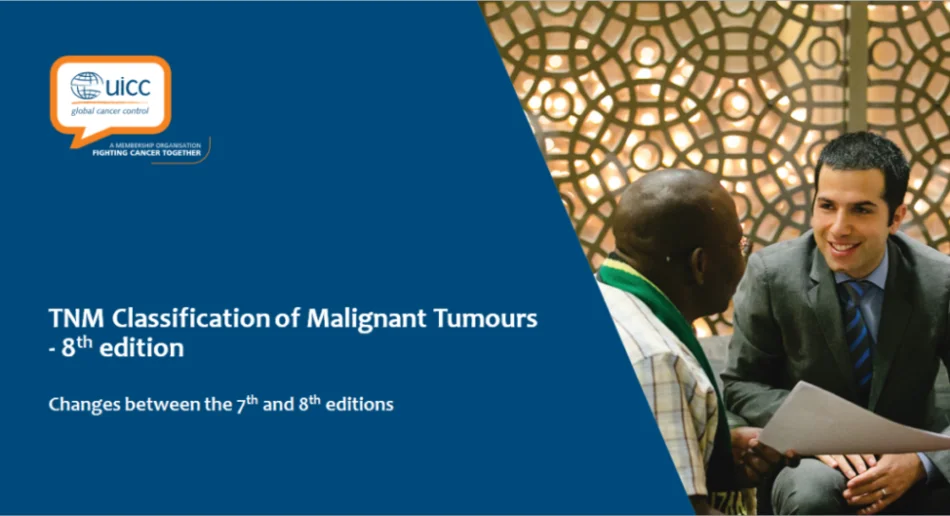 The recently released 8th edition of the AJCC TNM Cancer Staging Manual, Head and Neck Section incorporates significant changes based on advances in our understanding of the etiology and certain histologic attributes of tumors.
The most significant update in AJCC 8th edition, is the creation of a separate staging algorithm for high risk human papillomavirus-associated cancer (p16 positive) of the oropharynx, distinguishing it from oropharyngeal cancer with other causes (p16 negative).
For all sites, there are now separate classifications for clinical and pathological neck nodes.
In the clinical stage of N category for all cancers except viral related cancers and mucosal melanoma, extranodal cancer extension (ENE) has been added to the lymph node category (N). ENE is now a variable that impacts "N" staging. Cystic metastasis that stretches, but does not breach, the lymph node capsule should be classified as ENE negative.
N3a and N3b are now added. N3a being metastasis in a lymph node larger than 6 cm in greatest dimension and ENE negative and N3b being metastasis in any node (s) and clinically overt ENE positive.
The presence of skin involvement or soft-tissue invasion with deep fixation/tethering to the underlying muscle or adjacent structures or clinical signs of nerve involvement is classified as a clinical extra nodal extension.
Other modifications in recent AJCC update includes:
the reorganizing of skin cancer (other than melanoma and Merkel cell carcinoma) from a general chapter for the entire body to a head and neck specific cutaneous malignancies chapter.
division of cancer of the pharynx into 3 separate chapters and changes to the tumor (T) categories for oral cavity, skin, and nasopharynx.
References
Gospodarowicz MK, Brierley JD, Wittekind C, editors. TNM classification of malignant tumors. John Wiley & Sons; 2017 Jan 17.
Lydiatt WM, Patel SG, O'Sullivan B, Brandwein MS, Ridge JA, Migliacci JC, Loomis AM, Shah JP. Head and neck cancers—major changes in the American Joint Committee on cancer eighth edition cancer staging manual. CA: a cancer journal for clinicians. 2017 Mar 1;67(2):122-37.